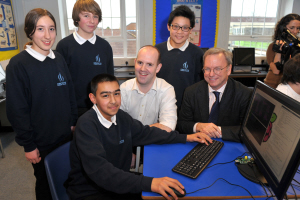 Google and Raspberry Pi
Google Giving Fund, the charitable arm of Google will be donating with the assistance of Raspberry Pi Foundation. Google Executive chairman, Eric Schmidt and Pi inventor  Eben Upton were at  Chesterton Community College in Cambridge teaching the kids coding lessons when they announced that they will be giving  15000 Rasberry Pi Model Bs to students all over UK.
"We hope that our new partnership with Google will be a significant moment in the development of computing education in the UK," said Upton.
"We believe that this can turn around the year on year decline in the numbers and skill sets of students applying to learn computer science at university."
"We're absolutely made up over the news," writes Upton on the Raspberry Pi blog. "This is a brilliant way for us to find kids all over the country whose aptitude for computing can now be explored properly. We believe that access to tools is a fundamental necessity in finding out who you are and what you're good at. We want those tools to be within everybody's grasp, right from the start."
Raspberry Pi Foundation
"The announcement today by the Raspberry Pi Foundation is one that will truly take the Raspberry Pi into the education sector – a dream which has been at the centre of their thinking since the project was created. It is great to think that, because of this innovative device, young people can develop new transferable skills in computer science that the engineering industry is crying out for," adds Mike Buffham, Head of EDE at element14, one of the two chosen distributors of the Raspberry Pi.
"We hope that this will also prompt discussion about what education departments, and indeed Governments, are going to do to ensure the next generation of design engineers will have the necessary core skills. Providing the Raspberry Pi to schools is one thing, but putting real computer science back on the school curriculum would have an even greater impact."
The Foundation is in collaboration  with Google and six UK educational partners to select  the students and teachers who can maximize the full potential of this devices: CoderDojo, Code Club, Computing at Schools, Generating Genius, Teach First and OCR.
I really hope that Raspberry Pi will bring a new wave of enthusiasm in technology !