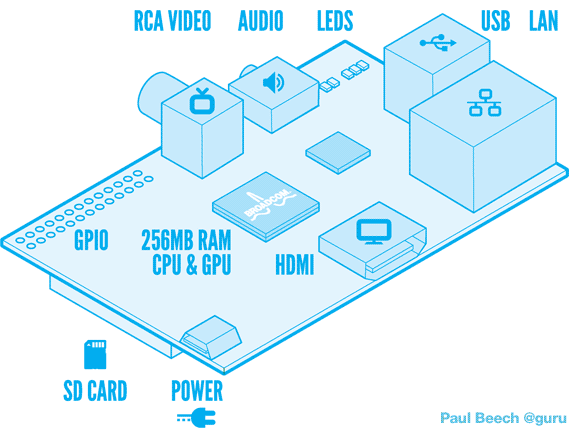 What would you say about 25$ single board computer ? Now it has become a reality with Raspberry Pi, a low ARM GNU/Linux box.
It has a quite impressive set of features considering its price. It's based on BCM2835 SoC which contains a 700 MHz ARM processor and a Videocore 4 GPU capable of HD video playback. It also has a 3D accelerator which can be accessed with the OpenVG and OpenGL ES 2.0 libraries. The high performance GPU is can decode 1080p30 H.264 videos and it is capable of 1 Gpixel/s, 1.5 GTexel/s or 24 GFLOPs in terms of general computing power.
There is only a compromise with this project: although the design is open source, the SoC documentation from Broadcom is not available until you sign an NDA with them.
It also features an USB port and in model B it also has an Ethernet port. It's very nice that it has some GPIO pins which make it very easy to extend the functionality of this board and to embed it in custom projects.
I just can't wait to start playing with one of those ..
You can find more information on Raspberry Pi's page at http://www.raspberrypi.org