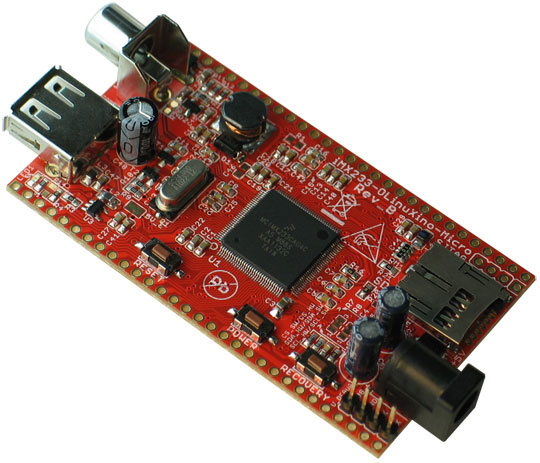 The Bulgarian manufacturer Olimex has just released an open source low cost single board computer based on i.MX233 integrated circuit from Freescale.This board features a powerful ARM926J core running at 454 MHz, 64 MB RAM, one high speed USB host port, and even a PAL / NTSC video output. This board is able to run Linux from the SD card bringing you a powerful system at the cost of an 8-bit microcontroller development board.
The board can be easily extended using the 2 x 30 pin GPIO connectors. The only thing that it lacks it's Ethernet, but you can connect a wifi adapter to the USB host port.
The board costs about 30$ and I think that it has a very good price to features ratio. Although it doesn't match the performance of Raspberry Pi, this is a fully open design, you've got the full datasheet of the i.MX233 chip, you can get the chip from common distributors, you've got the CAD files and it's also easy to reproduce it with hobby tools since it uses a 2 layer PCB and the LQFP version of the i.MX233 chip.
In fact, I must say that i.MX233 is quite impressive if you consider that fact that it costs less that 5$ (at 100 pieces volume).
You can read more about OLinuXino micro or buy one at http://www.olimex.com/dev/imx233-olinuxino-micro.html